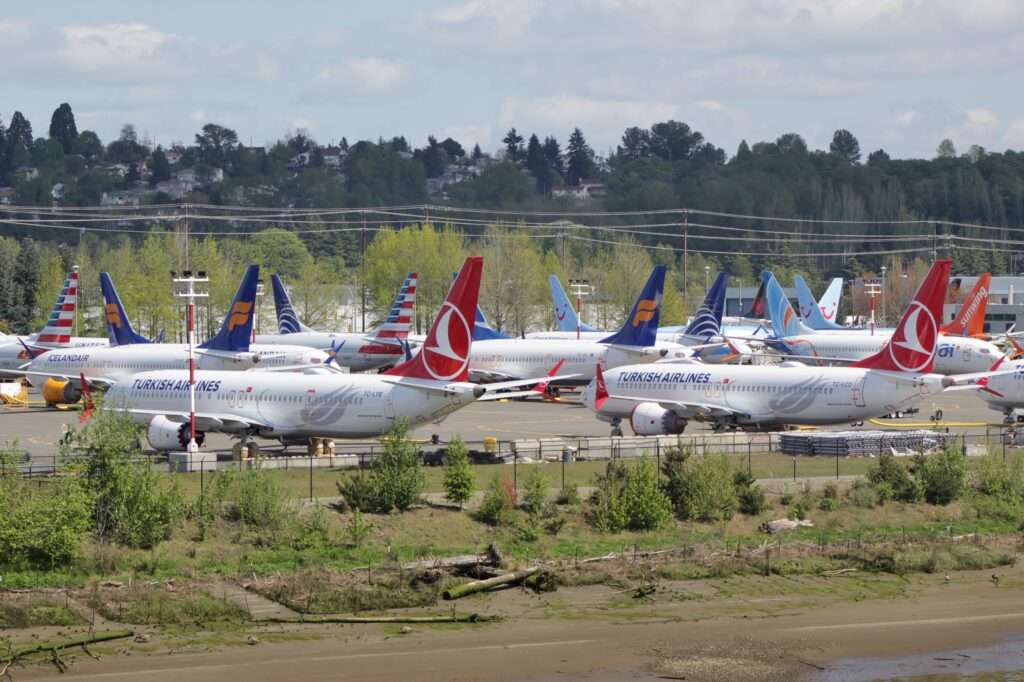 The major US stock indexes dipped slightly on Monday as Wall Street reacted cautiously to a warning from credit ratings agency Moody's about America's ballooning budget deficits and debt load. Meanwhile, aerospace giant Boeing saw its shares surge nearly 5% higher after major airline Emirates placed a colossal order that will inject over $50 billion into the aerospace company.
Late last week, investors digested an unexpected move from Moody's Investors Service, which downgraded its outlook on US government debt to "negative" from "stable". While Moody's maintained America's coveted "AAA" credit rating for now, the ratings firm expressed serious concerns that ever-growing budget deficits and a polarized political environment in Washington mean fiscal discipline is unlikely anytime soon.
According to the analysts at Moody's, the astronomical levels of red ink that have characterized the federal budget in recent years show no signs of abating. With interest payments on the ballooning national debt consuming an ever-larger slice of tax receipts, Moody's warned that America's debt affordability will be seriously weakened going forward unless policymakers take meaningful steps to curb spending andraise additional revenue. The ratings agency's gloomy forecast added to existing worries on Wall Street about inflated prices, rising interest rates, and a potential recession on the horizon.
Adding to the market's cautious mood on Monday, a batch of important economic data is scheduled for release this week that will provide important clues about inflation and consumer sentiment. Numbers on the Consumer Price Index for October are expected on Tuesday, with forecasts calling for only a slight 0.1% rise in overall prices but core inflation excluding food and energy potentially sticking around 4.1% year-over-year. On Wednesday, investors will parse the Producer Price Index as well as retail sales figures for further hints about where inflation may be heading.
Despite the broader market malaise, one heavyweight blue chip stood out from the fray: Boeing. Shares of the Chicago-based aerospace behemoth saw massive buying interest, vaulting nearly 5% higher on huge order news. At the Dubai Air Show over the weekend, major Middle Eastern carrier Emirates placed a staggering order worth an estimated $52 billion at list prices for Boeing's latest 787 Dreamliners and 777X widebody jets. The eye-popping deal for 95 planes represents one of the biggest commercial airplane agreements ever and provides a tremendous boost for Boeing as it works to move past several difficult years plagued by the 737 MAX groundings and pandemic-driven travel slump.
Market observers also noted reports that China may be considering lifting its restrictions on the Boeing 737 MAX, a move that could further reopen important growth opportunities for the American manufacturer in the world's second-largest aviation market. As the largest exporter to China, Boeing has faced significant headwinds since Beijing halted MAX flights and orders following the airplane's worldwide grounding in March 2019 after two fatal crashes within five months killed 346 people total. Fresh developments on the geopolitical tensions between the US and China will be closely watched this week as President Joe Biden and Chinese President Xi Jinping plan to meet at the G20 summit in Bali, Indonesia.
Aside from Boeing's breakout performance, other notable stock movers on Monday included software company Monday.com, which popped 12% higher in morning trading. Shares of Israeli chip manufacturer Tower Semiconductor dived over 7%, however, after the firm posted quarterly results below analyst estimates. Meat giant Tyson Foods edged up marginally. Later this week, retail heavyweights Home Depot and Walmart are among the notable names set to deliver their latest quarterly earnings reports, along with tech leader Cisco Systems.
The major indexes fluctuated mildly after the opening bell, with the Dow Jones Industrial Average slipping 0.1% while the broad-market S&P 500 dipped 0.4%. The tech-weighted Nasdaq Composite retreated 0.5%. Treasury yields climbed modestly, with the benchmark 10-year note yield rising to 4.67% from 4.62% on Friday. Oil futures inched higher, with West Texas Intermediate crude trading just above $77 per barrel after rebounding from its lowest settlement since late July in the prior session.
Looking ahead, market participants will be closely monitoring earnings season for further clues on the corporate outlook alongside key economic reports providing updates on inflation, consumer spending, housing, and other barometers. Indicators of slowing price pressures could give the Federal Reserve more flexibility on the pace of interest rate hikes going forward as policymakers seek to wrestle inflation back down toward their 2% target without tipping the economy into recession. Continued stock resilience in the face of uncertainty around monetary policy, geopolitics and the macro backdrop may also prompt advisors to cautiously raise exposure levels in portfolios at this point of the market uptrend. Overall, equities appear poised to build on recent gains but volatility is likely to persist as well.
In conclusion, while Moody's debt warning and questions around inflation provided a tepid backdrop to kick off the week, Boeing's massive Emirates jet deal helped shine a spotlight on pockets of strength in the market. The aviation giant's breakout move higher amid upbeat developments on both new orders and the Chinese MAX ban underscored the potential for upside surprises during earnings season. At the same time, uncertain macro conditions and looming headwinds leave the path ahead bumpy. For investors, continued vigilance and prudence appear warranted even as opportunities persist in well-positioned stocks and sectors powering the latest leg of the rally.